Thousands of people act as the Deputy for someone in their family who does not have the mental capacity to look after their own affairs. Their lack of mental capacity may be because of age, illness, or injury. Whatever the reason, the role of Deputy brings with it great demands and responsibility.
We know – because as the country's largest independent team of Deputyship lawyers, we are dealing with hundreds of Deputyships at any one time.  
What we see – the challenges we deal with
The resources we can call upon
Putting experts at your disposal
"Quality and compassion are hallmarks of their practice."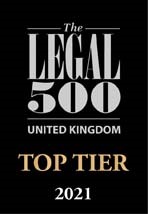 Please contact us on 0161 871 3680 or email Head of Department Liz Hughes a free initial discussion with a specialist solicitor in our team