Carol is a Director and Head of Private Client at Hugh Jones Solicitors.  She has specialised in private client law, mental capacity and Court of Protection law and practice since qualification as a solicitor in 2002.  
Future planning
One of the largest parts of Carol's practice is ensuring that her clients have suitable Wills. This includes advising on appropriate trusts e.g. for those who need to make provision for people who have disabilities, or for people who are concerned about their liability to pay for care home fees, and so on. She takes a pragmatic approach, ensuring that her advice is workable in practice, and she has particular experience of making wills for people with mental capacity issues. 
She also advises on Powers of Attorney. As well as advising, preparing and registering Lasting Powers of Attorney for her clients she is happy to accept standalone instructions as certificate provider.  Carol can also advise on, and register the older style Enduring Powers of Attorney, and prepares general powers of attorney in suitable cases.  
Trusts
Carol has particular responsibility for overseeing the firm's portfolio of trusts.  These include compensation protection trusts, CICA trusts, trusts for disabled children and for vulnerable adults. 
Probate
Carol has extensive experience in probate and estate administration, and is commended by her clients for her efficient, pro-active approach.  
Mental capacity and Court of Protection
Carol has a great deal of experience of making applications for deputyship for both lay and professional deputies as well as professional deputyship administration including pre- and post-settlement litigation. This covers managing interim payments to fund extensive rehabilitation packages, specialist equipment, property purchases and adaptations, and investing the award. She has also arranged for the discharge of deputyship orders when the person has regained the capacity to manage their own affairs. 
Carol has also dealt with various applications to the Court of Protection to have statutory wills and gifts approved, and is also experienced in contested deputyship and attorneyship matters, and health and welfare deputyship applications.  
Carol is a full member of the STEP, Solicitors for the Elderly and the Court of Protection Practitioner's Association (CoPPA). She sits on the steering committee for STEP's mental capacity Special Interest Group and is vice Chair of the Salford Dementia Action Alliance. She lectures and writes on her areas of interest. 
She has recently achieved a distinction for thesis on advance decision-making and Lasting Powers of Attorney for her masters degree in mental health and capacity law (also obtained with distinction overall).  In her spare time she acts as a freelance tutor for the CILEX Law School covering Law of Wills and Succession, Probate Practice and the Practice of Law for the Elderly Client.
In February 2015, Carol has participated in training at the Salford Dementia Institute to become a Dementia Champion, as part of the Dementia Friends scheme with Alzheimer's UK - the second member of the firm to achieve this.
In the Legal 500 2015 listings Carol is described as 'intelligent, helpful and reassuring'  is a Recommended Lawyer.
In the Legal 500 2017 listings, said Carol is 'equally at ease whether discussing sensitive matters with fellow professionals, family members or others who are involved in the life of disabled parties' and she is again a Recommended Lawyer.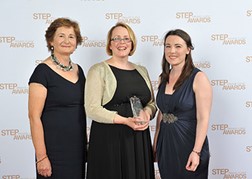 Carol and fellow Director Liz Hughes, accepting our award for Vulnerable Client Advisor of the Year at the STEP awards, September 2015